Day Trips from Milan
Day trip by Bernina Express to St. Moritz
On board the Bernina Express from Tirano to St. Moritz
Tirano in Valtellina
St. Moritz in Engadin
Departure from Milano by bus. The tour leads along the Como Lake to the Valtellina with it's wine fields along the road and famous cheese fabrication.
Arrival at Tirano, a historic mountain village in the Alps
After the visit of the basilica "Madonna di Tirano" of the of the 16th Century you have free time for visit and lunch in one of the typical trattoria in the old part of the town. There a wineries to taste the regional Valtellina wine.
In the early afternoon you go on the famous Bernina Express to a panoramic trip through the Alps. The little train has become UNESCO world heritage.
On board of the famous "Red Train" you enjoy a 2,5 hours magic journey through the most beautiful mountains in Europe.
The highest alpine transversal in Europe starts in Tirano. The train climbs from Tirano (429 metres) with it's Mediterranean climate up to 2253 metres into the eternal snow of the Swiss Engadin to the Bernina Hospiz to descend to the famous winter sport resport St. Moritz (1775 metres).
Sitting comfortably in the panoramic carriages, you pass the spiralling viaduct at Brusio, fascination loop tunnels, and have a spectacular view to Piz Palü and Piz Bernina, the Morterasch Glacier and the Bernina mountains with their eternal snow.
Arrived at St. Moritz you have free time to visit the city. St. Moritz is one of the most elegant and exclusive holiday resorts of the world where the high society passes there winter holidays.
Departure for return trip

For the return the bus takes the breathtaking route over the Maloja Pass to the Bregaglia Valley and Chiavenna to Milan.
Arrival at Milano
NOTE: Times subjected to organization and/or traffic problem
Insider tip: Did you know that in Valtellina every wine hill has its own name and you can buy this wine in the local wine stores?
Swiss Alps Bernina Express Rail Tour from Milan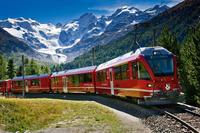 129,00 €
Duration: 12 hours 30 minutes
Take a ride on the Bernina Express, Switzerland's alpine delight. This train journey takes you along one of the most beautiful railway routes in the world – now a UNESCO World Heritage Site – through the Bernina Pass to the exclusive resort of St Moritz at the 'Top of the World.' Enjoy a round-trip scenic coach trip and ride a bright red rail car, passing unrivaled landscapes amid the towering peaks of the Swiss Alps, including time to spend in charming Tirano and St Mortiz.
Cinque Terre Boat and Train Tour in one of the most beautiful Regions in Italy
CINQUE TERRE - Day trip from Milan
Boat and train tour in one of the most beautiful regions in Italy (UNESCO Heritage)
'Cinque Terre' means 'five lands', and Italy's famous Cinque Terre are five perilously-perched villages strung along a short stretch of cliffs bordering the Ligurian Sea.
Cinque Terre are (north to south): Monterosso al Mare, Vernazza, Corniglia, Manarola and Riomaggiore.
Departing Milan, you arrive at Golfo dei Poeti (Gulf of Poets) and visit the delightful village of Portovenere. From Portovenere take a boat trip to Monterosso al Mare and on the way admire the stunning views of the Cinque Terre from the sea.

In Monterosso, the biggest of the five villages, you will have time to explore and visit the beaches dotted along the coast. Despite the number of tourists, there is still a real sense of local identity even in the most tourist-crammed little 'piazze'. Restaurants, bars and accommodation all have an endearingly homespun air about them as though when the locals saw tourists coming, they found a few garden chairs to stick on their terrace, hand painted a sign and began serving customers. Then take the train to Vernazza and you will visit the nice village.
You'll then continue on the final leg of your scenic day trip by train to La Spezia, where your coach will be waiting to take you back to Milan.
Insider tip: Did you know that the little trains (trenino) are used on the wine hills for the grape harvest?
Cinque Terre Day Trip from Milan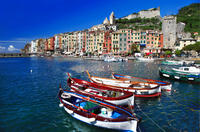 129,00 €
Duration: 12 hours
Discover Italy's sublime Cinque Terre coastal region on a day trip from Milan. Renowned for its terraced landscapes and five cliffside villages – Monterosso al Mare, Vernazza, Corniglia, Manarola and Riomaggiore – the UNESCO-listed Cinque Terre is one of Italy's scenic gems. Head there in a comfortable coach and then ride a boat from Monterosso to La Spezia. Enjoy free time to explore and have lunch (own expense) before returning to Milan.
Day Trip to visit Como and boat cruise on the Como Lake to Bellagio
LAKE COMO AND BELLAGIO - Day trip from Milan
Visit of Como and boat trip on the lake looking at its beautiful "villas".
Enjoy the beautiful of the Lake Como on a day trip from Milan. The fashionable lakeside town of Como surrounded by the Middle-aged town walls and it's Cathedral of marble is just a short drive from Milan. The lake with it's peculiar shape - a Y turned upside down is surrounded by snowcapped mountains.
After spending time visiting the historic city center of Como and having a break in front of the Duomo, you'll take a two-hour panoramic cruise on Lake Como to the enchanting village of Bellagio.
Lake Como is the third largest lake in Italy, after Lake Garda and Lago Maggiore, and is ringed with scenic towns.
Along the shores, in particular from Cernobbio to Gravedona and Bellagio, you will see wonderful villas and gardens with plenty of flowers as well as exotic and rare plants.
On your cruise you will admire the splendid lakeside wonderful villas and gardens with plenty of flowers as well as exotic and rare plants and keep an eye out for Villa d'Este at Cernobbio, a luxurious hotel complete with tropical gardens. The mild Mediterranean climate ensures an abundance of exotic and rare plants thrive year round.
Docking at the delightful town of Bellagio, you can follow the steep lanes running up from the lake and stop at boutiques and cafes housed in historic buildings.
Before returning to Milan the coach stops at the Cathedral S. Abbondio, a beautiful Romanesque church with precious frescos. During an afternoon break at La Tessitura, a concept store designed by Mantero Seta featuring a tribute to silk production, you have the possibility to by in the factory store.
Insider tip: Did you know that the actor George Clooney has his own villa at the Como Lake?
Lake Come and Bellagio - Day trip from Milan every Saturday and Wednesday - Program
Lake Como Day Trip from Milan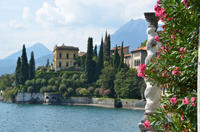 79,00 €
Duration: 9 hours
Take in the stunning scenery of world-famous Lake Como on this day trip from Milan, just a quick 1-hour drive away. Explore the fashionable lakeside town of Como, surrounded by snowcapped mountains and picturesque Mediterranean villas, and enjoy a breathtaking cruise along Lake Como. In the summer, dock at the enchanting village of Bellagio for free time to dine and shop; in the winter, take the funicular up to the town of Brunate for a sweeping panorama of the city and the lake below.
Visit the beautiful and romantic city of Romeo and Juliet
Day tour from Milan to Verona and Garda Lake every Friday
On a scenic day trip from Milan you'll discover that Verona is one of Italy's loveliest towns, a major stop on the Shakespearean tourist trail, and be charmed by the towns and landscapes of Lake Garda.
Verona is one of the most beautiful towns with its attractive medieval city centre. The Roman Arena, where concerts and operas are performed in summer, is the city's grandest sight (original capacity 20,000), but the so-called 'Juliet's balcony' is also a principal port on the Shakespearian tourist trail.
You can spend time exploring the narrow streets, the churches with works of art and the ruined Teatro Romano over the river from which you have an excellent view from the terraces of the ancient theatre.
The beautiful lakeside towns around Lago di Garda have charmed foreign visitors for centuries. The area was a summer resort area for the ancient Romans, and in Sirmione and Desenzano you can visit the ruins and mosaics that record their presence.
Lake Garda is long and slim with a southern end that is low, rolling land, fairly built-up. In contrast, the northern end is surrounding by towering mountains.
The pretty town of Sirmione is on the southern shore of Lake Garda, perched on the end of a long promontory. Sirmione's beautiful setting was praised by the Roman poet Catullus. The town's narrow medieval streets bustle with color and life, and its most striking feature is the moated castle, Rocca Scaligera. Take a wander through a ruined Roman villa and admire archaeological finds - including a charming carving of rabbits in the small museum.
Verona and Lake Garda Day Trip from Milan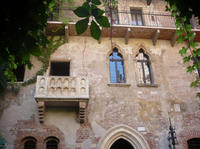 89,00 €
Duration: 12 hours
Explore the beautiful town of Verona and lakeside towns lining Lake Garda on a scenic day trip from Milan. You'll discover that Verona is one of Italy's loveliest towns, a major stop on the Shakespearean tourist trail, and be charmed by the towns and landscapes of Lake Garda.
Sirmione, Lake Garda and Desenzano del Garda Tour by Train from Milan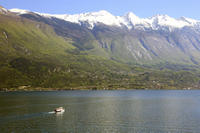 100,00 €
Duration: 11 hours
Lake Garda is Italy's largest lake, but there's more than just the amazing Alpine scenery, mild climate and picturesque villages that keeps drawing visitors. On this day trip from Milan by train, visit the fascinating ancient Roman villas, castles and caves surrounding Lake Garda with an expert guide. Visit the old port of Desenzano del Garda and take a boat cruise to Sirmione for guided tours of the historical and archaeological treasures from thousands of years ago, plus enjoy free time to explore more on your own.
Genoa and Portofino Visit with Boat's Tour in one of the most beautiful Regions in Italy
GENOA and PORTOFINO - Day trip to the Mediterranean Sea
every Monday from April 1st to October 31st
Genoa, city with a glorious past, nowadays is one of the most fascinating centre of the North of Italy. The Ancient Harbour revaluated by the famous Italian architect Renzo Piano and the typical "caruggi" (narrow alleys) of the old town will welcome you to discover the charm of this Ancient "Repubblica Marinara".
The main touristic attraction of Genoa is the old harbour (porto antico) with it's historical buildings (like the Cotton warehouses), the new Aquarium, the Museum of the Sea and the Sphere. Other sights of Genoa include Piazza De Ferrari with the Palace of the Doges and the Opera. The main church ist St. Lawrence Cathedral (Cattedrale di San Lorenzo). Built in a Romanesque-Renaissance style is the city's Cathedral.
Then you go by bus to the touristic municipality Santa Margherita Ligure from where you take the boat to take a break in a pearl of the Ligurian Sea: Portofino. Portofino is a charming small Italian fishing village with the Castel Brown on a hill. Luxury yachts anchore in the harbor. In the small bay the Statue of "Christ of the Abyss" was placed underwater at a depth of 17 metres to be discoveres from scuba divers. This statue was put 1954 in memory of Duilio Marcante to protect fishermen and divers.
Insider tip: Did you know that in a little house in Genoa the explorer of the American continent Christopher Columbus was born? Today you can visit it as museum. Did you know that the Italian Prime Minister Silvio Berlusconi has his castle at Portofino?
GENOVA and PORTOFINO - Day trip from Milan - every Monday from April 1st to October 31st
Genoa and Portofino Day Trip from Milan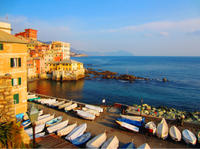 119,00 €
Duration: 12 hours
See the best of the Italian Riviera on your Genoa and Portofino full-day trip from Milan! After a guided walking tour of Genoa, explore the best bits of these contrasting coastal towns at your leisure. Combine maritime history at Genoa with glamorous Portofino seaside scenery on this memorable day trip from Milan!
Day Trip to Lake Maggiore with visit of Stresa and boat trip to the Borromean Islands
MAGGIORE LAKE - Day trip from Milan every Sunday from April 1st to October 31st
Visit of Stresa and boat tour of the islands Borromee (Isola Bella, Isola Madre and Isola dei Pescatori).
On the borders of Piedmont, Lombardy and Switzerland, the Lake Maggiore (or Verbano) is the second largest Italian lake, after Lake Garda.
Most of the lake lies in Italian territory and only the most northerly end (42 sq km) belongs to Switzerland.
Like the other northern Italian lakes, Lake Maggiore credentials as a tourist destination dates back to the early twentieth century, when a spate of illustrious visitors enjoyed life in luxurious lakeside villas and verdant gardens.
The most popular Lake Maggiore resorts are on the western shores of the lake. Stresa is a lovely town with beautiful villas and gardens (some open to the public), a good climate and lake views. From the town a cablecar takes you up Monte Mottarone, where from a height of over 4,000 ft you can enjoy views of the Alps and the other lakes.
If you spend time at Lake Maggiore, you will soon become familiar with the name of the Borromeo family, who still own the islands named after them. Their most celebrated son, St Charles Borromeo, was born in the castle in Arona, at the southern end of the west shore, where a gigantic statue celebrates him; if you climb up inside the hollow structure, you can admire the view through the Saint's eyes.
The Borromean Islands are an unmissable Lake Maggiore tourist attractions, containing beautiful gardens and small settlements with restaurants and shops.
Lake Maggiore with boat trip - Day trip from Milan every Sunday from April 1st to October 31st
Lake Maggiore Day Trip by Train from Milan Including Cruise to Isola Bella and Isola dei Pescatori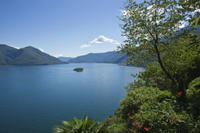 100,00 €
Duration: 11 hours
Venture by train from Milan to one of Europe's more graceful corners, Lake Maggiore, with its pretty lakeside towns and lush Borromean Islands. Spend a day cruising past Lake Maggiore's elegant villas and flowering Mediterranean gardens, and dock on Isola dei Pescatori for free time and Isola Bella. End with a visit to the lakeside town of Stresa before training back to Milan.
VENICE full day tour from Milan including a walking tour as well as a boat trip along the Venice lagoon
VENICE full day tour from Milan including a guided walking tour as well as a boat trip along the Venice lagoon - every Sunday
Venice really needs no introduction. The watery city, home to gondoliers in stripy jerseys singing in front of the Bridge of Sighs, has been a fabled holiday destination for centuries.
For centuries Venice was a republic of immense power; controlling trade routes in the Adriatic, and waging successful wars with rival states. Ruled by a doge, who had his powers controlled by a cabinet, Venice was a proud and rich republic, known as la Serenissima, the most serene. Every year the Doge would take part in a symbolic ceremony, the Marriage of the Sea, to celebrate Venice's mastery over the ocean.
Venice is composed of more than a hundred tiny islets, packed closely together around canals. The city is in a lagoon, protected by the longer island of Venice Lido. Venice is famously sinking. Every year high water levels (acqua alta) threaten the city's fabric, and it has long been feared that the beautiful city will one day disappear beneath the water.
While in Venice you'll enjoy a boat trip on the Venice lagoon and take a two-hour guided walking tour. As you stroll, your guide will point out the significant buildings and monuments you'll pass.
With its singing gondoliers, exotic architecture and mysterious canals, Venice has been a fabled holiday destination for centuries.
Venice Day Trip from Milan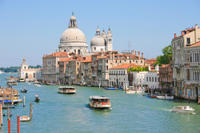 129,00 €
Duration: 14 hours
Visit the breathtaking city of Venice on an action-packed day trip from Milan, and see the city's top sights with a local guide! On a walking tour, discover must-see Venetian landmarks such as St Mark's Basilica, Doge's Palace and Rialto Bridge, while learning about their history. After wandering through St Mark's Square and alongside the Grand Canal, visit a prestigious glass-making workshop to see a demonstration by a local craftsperson. Before returning to Milan, enjoy a 30-minute gondola ride at your own expense or simply enjoy some free time.
Private Emilia Romagna Food Tour from Milan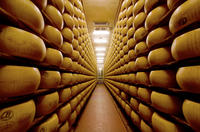 77,33 €
Duration: 6 hours
From succulent Parma harm to rich Parmesan, discover the Emilia Romagna region's finest gourmet products on a private half- or full-day tour from Milan. Choose to drive yourself or to have a driver chauffer you, then set off to discover the region's culinary secrets. Learn about artisanal production methods with visits to a cheese dairy and a Parma ham producer, and savor a delicious lunch at a wine cellar. On the full-day tour, you'll also savor the unique flavor of aged balsamic vinegar.
Italy and Switzerland in One Day: Lake Como and Lugano from Milan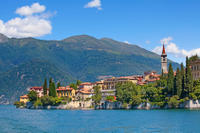 101,00 €
Duration: 10 hours 30 minutes
Visit Italy and Switzerland in one day on a relaxing daylong excursion to Lake Como, Bellagio and Lugano from Milan! Hop aboard a sightseeing boat and cruise around chic Lake Como for 2 hours. Then, get ready to discover the beautiful town of Bellagio. In the afternoon, cross the border to Switzerland and make the most of some free time to discover Lugano's delights. Shop for Swiss chocolate, discover fine Renaissance art and admire breathtaking lake views.
DISCOVER MILANOS BEST SHOPPING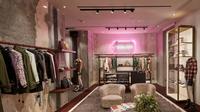 38,50 €
Duration: 3 hours
As the fashion capital of Italy (and the Milanese would argue, of Europe!), shopping in Milan is an experience not to be missed! The locals are renowned for their style, and you'll find the very best of Italian fashion here - from luxury boutiques and high end galleria to family businesses where you'll find incredible quality but affordable fashion, with a local by your side you'll be able to discover the very best of Milan's most fashionable neighbourhoods and shops. Discover Milan's distinct style as well as the quality and elegance that Italian fashion is famous for, unearth hidden treasures and shop in the city's very best stores for unique pieces to take home!
Genova and Portofino Day Trip from Milan with Hotel Pickup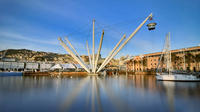 131,00 €
Duration: 12 hours
Discover Genoa, a city with a glorious past! Spend your morning in the Birthplace of Christopher Columbus, which today is one of the most charming cities in Northern Italy. Finish your day in Portofino, the pearl of the Ligurian sea with its quintessential feel and crystalline green waters.The biggest medieval town in Europe, Genoa maintains the charm of the ancient maritime republic. The Ancient Harbor renovated in 1992 by the architect Renzo Piano and the labyrinth of narrow alleyways in the old town are just two of the many attractions of this city.
Milan by Night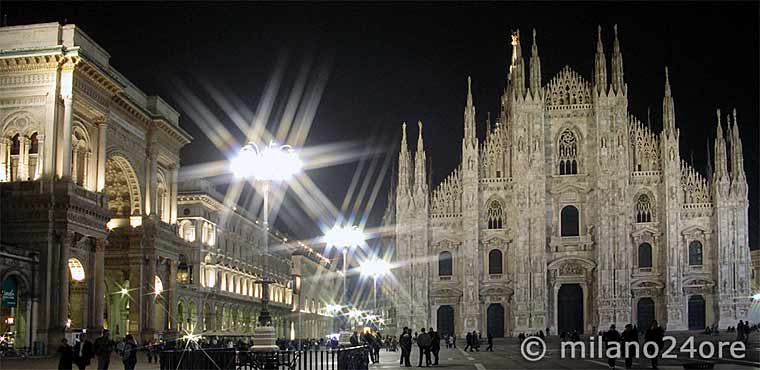 Galerie Vittorio Emanuele II.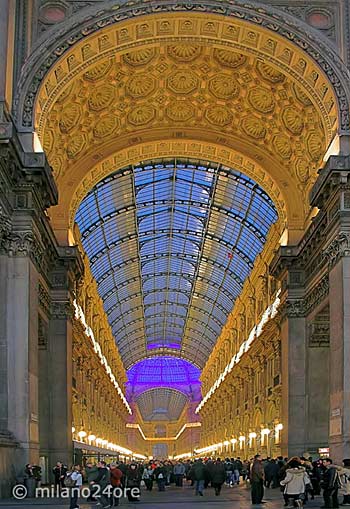 Video Naviglio Grande
Milan Evening Walking Tour of Brera
Visit the chic Brera neighborhood near the castle, the famous 10 Corso Como boutique and cafe, and the brand-new Porta Nuova district to learn about all the hip spots to eat, drink, and shop. With insider advice from your guide, you'll see Milan like a local!
Enjoy a leisurely walk through Milan's most fashionable areas including the Brera district, Porta Garibaldi and Porta Nuova
1.5-hour evening walking tour of Milan's nightlife spots with personal tips and suggestions for your stay in Milan from a local guide.
Tour on Thursday, Friday, Saturday
Start 7:00 p.m.
Milan Food Walking Tour of Brera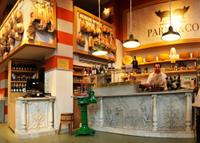 58,50 €
Duration: 3 hours
Eat your way through Milan's Brera neighborhood on a 3-hour food tour, led by a food-loving local guide! Learn about the city history and cuisine as you wander the atmospheric streets, and enjoy six different food stops for samples of local delicacies and well-known Italian treats. Traditional Milan dishes, artisan beer, and silky-smooth slices of Parma ham are among the other mouthwatering morsels you get to try along the way. Numbers are limited to 12 on this small-group tour, ensuring personalized attention from a guide.
Dinner Show
Enjoy an evening with entertainment at Maison Milano, an elegant restaurant in a former post of the 19th century with characteristic architecture.
Every Thursday, Friday, Saturday at 9 p.m. starts a 4-course menu of traditional Italian cuisine accompanied by live entertainment.
Maison Milan offers varied and original shows: variety, burlesque, live music and DJ sets.
PROGRAM:
9.00 p.m. Maison Milano - via Montegani 68
4-course menu of Italian gastronimic tradition (water, wine, coffee included) 
Live-Show during dinner
Price 59 € p.p.
1-Hour Rooftop Guided Tour of Milans Duomo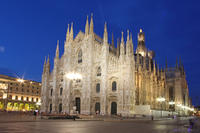 38,00 €
Duration: 60 minutes
Bypass the queue with your prebooked ticket to the top of Milan's Duomo — Milan Cathedral — the city's most notable attraction and one of the world's largest churches. Take the elevator up the steepest portion of the church, followed by just 50 steps to the rooftop, where you'll enjoy sweeping views of Milan and admire the cathedral's statues, spires and buttresses up close. Learn about the history and significance of this Gothic masterpiece from your guide along the way.
Navigli Cruise Tour in Milan
A fascinating half day tour of the "Navigli" area and nice cruise on the canals every Saturday.
Navigate through the canals of Milan on a half day guided tour through the charming region of Navigli.
The origins of the Navigli date back to about 1100, but this stretch of water was only made navigable from the Ticino to the center of Milan at the end of the 14th century, to help transport the marble that was needed to build the Duomo. The Milan Wharf, an important commercial port for river transport for many centuries, was still working up to the end of the Second World War, and then permanently closed in 1979.
Today the Navigli make up one of the most charming places in Milan, a place of both nostalgia and innovation with the old, typical "case di ringhiera" houses and antique shops. An artsy quarter and a hopping nightlife scene with hundreds cafes, shops, bars and restaurants standing on each side invading the banks of the river in the evenings and weekends, especially from April to September with their open-air tables.
The tour includes a 50 minute cruise on the Naviglio Pavese and the Naviglio Grande to enjoy the picturesque atmosphere of the antique houses and shops, a 90 minute walking tour to visit the main historic sites such as the Porta Ticinese, one of the 6 main doors which have been the only entries to the city until the end of 19th century, the Church of S. Eustorgio where the remains of the Wise Kings are conserved. Don't miss the famous Portinari Chapel inside. The tour continues along Porta Ticinese St. to reach the ancient basilica of San Lorenzo Maggiore (IV century) with its impressive columns.
Insider tip: Did you know that Leonardo da Vinci improved the systems the mechanism for opening and closing sluice gates in use in the Navigli?
Navigli Canal Evening Walking Tour in Milan with Wine and Food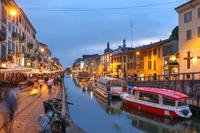 59,00 €
Duration: 2 hours 30 minutes
Explore Milan's historical Navigli canal district on a 2.5-hour evening walking tour, and enjoy wine and several snacks, too! With a local guide, enjoy a glass of wine, and then stroll around the enchanting streets that line the canals to discover an eclectic array of shops, cafes, restaurants and bars. Visit an 'enoteca' (wine bar) for samples of wine, cheese, meat and bread, and then finish the evening with an all-you-can-eat aperitivo in one of the locals' favorite bars! Numbers are limited to 15 on this small-group tour, ensuring a personalized experience.
Milan Segway Tour by Night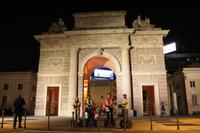 65,00 €
Duration: 2 hours 30 minutes
See Milan by night on a 2.5-hour Segway tour. Travel from the historical center to the city's newest neighborhood, home to innovative architecture and futuristic skyscrapers. See the distinctive Unicredit Tower, Italy's tallest building, as well as Bosco Verticale (Vertical Forest) and the huge Milan Central Station. Ride a Segway between the sights while listening to an audio guide and discover how and why this city is changing. This small-group Madrid Segway tour is limited to eight people, ensuring a personalized experience.
Milan Luxury Spa Evening with Aperitivo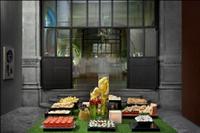 42,00 €
Duration: 2 hours
Enjoy an evening of spa treatments and pampering followed by a traditional Italian 'aperitivo,' or light snacks with a drink, on this spa evening in Milan. Relax in QC Termemilano's many saunas and warm-water pools, enjoy the tranquil gardens at your leisure or indulge yourself in a soothing essential-oil massage — your time is your own to enjoy as you like. Afterward, enjoy a traditional Italian aperitivo of traditional and regional wine, fruit juice, cheese, salad, bread, jams and fruit. Leave feeling refreshed, energized and ready to enjoy the rest of your evening in Milan.
Afternoon Food Tour with Beer Tasting in Milan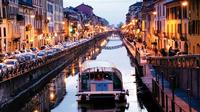 65,00 €
Duration: 3 hours
Are you in search of the ultimate culinary Italian experience in Milan? This Afternoon Milan Food Tour with Beer or Wine Tasting is exactly what you need if you want to discover Italian food traditions and new trends in the coolest neighborhood in Milan.
Evening Cooking Lesson with Dinner in Milan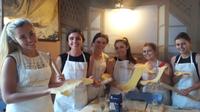 107,00 €
Duration: 4 hours
Experience a different cooking lesson in a typical Italian home in Milan and learn Italian cooking, dine and socialize. Classes are held in English by Aurora, the house owner and a certified cook.