MilanoCard 3-Days-Card and 1-Day-Card
What is MilanoCard ?
MilanoCard is the tourist card for Milan offers a lot of very interesting services.
With MilanoCard you save money and time in Milan.
You get the MilanoCard APP on your smart phone
With Milano Card you have free access to Milan Public Transport for 24h, 48h or 72h and a free personal driver.
MilanoCard is personal and not transferable. Children under ten years old ride free!
MilanoCard offers free public transportation and free or discounted entry to over 500 Milan tourist attractions, including more than 20 top Milan museums, shops, and restaurants.
MilanoCard offers services beyond Milan in Lombardy, Rome and Venice for one month.
Buy the card with any credit card and download for free MilanoCard APP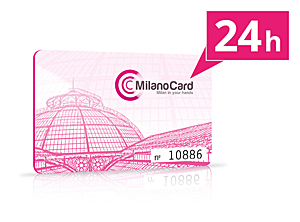 Offerd by Booking.com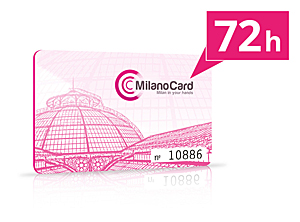 Offerd by Booking.com
Buy MilanoCard
Choose and buy MilanoCard now online. Pay with your credit card or PayPal and receive on your smartphone or via mail to start saving money from the first moment at your arrival in Milan.
This solution is the best one also for last minute reservation, in fact you can receive your MilanoCard point just 2 minutes after your online purchase by e-mail or app!
The MilanoCard is personal and not transferable. For children under ten years it is free.
Services and Savings with MilanoCard
MilanoCard
FREE ACCESS to the public transport of Milan (Metro, Tram, Bus, CityTrain) from the first validation to the next 72h (3-days-card) or 24h (1-day-card)
To the top attractions of Milan you get free access (limited per day) and you can have lots of discounts for museums, sightseeing tours, restaurants and more.
Free Personal Driver for 1 ride (up to 12€ each) for free (only for new users).
Free or discounted access in more than 20 museums and more than 500 tourist attractions in Milan, Rome and Venice
The MilanoCard is personal and not transferable. For children under ten years it is free.
MilanoCard allows visitors to save an average of 113€ in 3 days!
---
More Savings
FREE ON CALL Multi-lingual Medical Infoline and reduce charges for Medical Service for Tourists
FREE PHOTO printing
Currency Exchange Milan
Tours and activities in Milan
Tickets for Events
Fine Italian Food (Book a restaurant, save on dedicated menus or welcome drink)
Shopping in outlet centers
MilanoCard for Italy

How to get MilanoCard
Get your MilanoCard in three easy steps.
Make the payment with any credit card or via a PayPal account.
Receive your MilanoCard on your smartphone.
Enjoy Milan! The card becomes active at the date and hour you chose after the payment.

MilanoCard
For your questions: