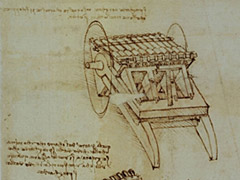 Destination: Milan city center
Rating: 4.40

Length of time: 3 days - 2 nights
Stay: daily except Mondays
Saeson: whole year (closed in August)
Rates : 350.00 Euro
Guest min: 2
Guest max: 10
Extras: Extra night and private transfer
Combination with: Stay in Italy, Florence with Uffizi Gallery, Leonardo house and Leonardo Museum
Description: Private short trip: In the footsteps of Leonardo da Vinci and the Renaissance in Milan. Did you know that Leonardo in Milan owned a small winery? The trip includes tours with a visit to the Last Supper and the Codex Atlanticus exhibitions.
A short trip to Milan with hotel accommodation, including the visit of the exhibitions of the "Codex Atlanticus" and a private tour of the historic center of Milan with a visit to the famous Last Supper by Leonardo. The trip is a great gift idea with the date of your choice.
Travel Package: Leonardo da Vinci' Last Supper and Codex Atlanticus
Thematically journey to Milan for enterprises and travelling groups. The trip includes 2 or 3 night in hotel in Milan. Guided visit in the exhibition "Codex Atlanticus" and private guided walking tour in the historical centre of Milan with entrance ticket to the famous Last Supper of Leonardo da Vinci.
Leonardo Da Vinci one of the most famous renaissance in the world was also an incredible inventor.
The Atlantic Codex is the largest-known collection of drawings and writings of the ideas for inventions of Leonardo Da Vinci.
Since 1637 it has been property of the Ambrosiana Library, one of the most ancient milanese cultural institutions.
Starting from 2009 a series of theme exhibition will allow to admire a selection of 45 drawings, recently unglued and restored, and exhibited to the public for the first time ever.
The Ambrosiana Library and Gallery, rich in art masterpieces by Leonardo, Rafael and Caravaggio, and the Monastery of Santa Maria delle Grazie, that houses also the Last Supper, are themselves main excellences of the milanese art and cultural tradition.
500 Years Leonardo da Vinci: Group Package 3 Days - 2 Nights
First day
Arrival to Milan
Check-in and Welcome drink in hotel
Entrance and guided visit to Ambrosiana: Art Gallery, Aula Leonardo and "Codex Atlanticus" exhibition in the Sala Federiciana
Overnight in hotel
Second day
Buffet breakfast
Guided city tour including entrance to the Last Supper in the church Santa Maria delle Grazie
Entrance to the Castello Sforzesco to visit the "Sala delle Asse" dipinted by Leonardo da Vinci
Visit of the Leonard's Horse
Overnight in hotel
Third day
Buffet breakfast
Check-out and departure