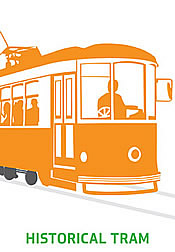 Hop On Hop Off : How to discover Milano on Tram
Hop On Hop Off : How to discover Milano on Tram! Milan is a great historical city with beautiful corners that you must discover and enjoy!
Hop on hop off by tram
As almost in every city, also in Milan you can find city tours but with Hop On Hop Off you can find a really original city tour: you will have the possibility to discover Milan with an innovative self-guided tour onboard a historical Tram.
With this tour you can explore the city center in a unique and original atmosphere and listen to the audio guide included that will give you a complete description of the route and the most important places covered by the tour.
The TraMilano Hop On Hop Off Tour does 10 main stops that correspond to the most important tourist places in Milano, of a total of more than 20, and if you want to visit some place you can just to hop off the tram wherever you want and take the next tram as trams run every 10min from 08.00 am to midnight!
Hop On Hop Off on Tram n1
Milan TraMilano hop on hop off by tram tour to the beautiful landmarks
The Tram n.1 is the historical tram of the city, is a very old tram of the 1929 made by wood and is the oldest tram in town that will let you live the unique experience of going back in time and discover the city center's main attractions, points of interest and museums affiliated with MilanoCard.
Some of the places you can discover with this Hop On Hop Off Tour are for example The Scala Theatre, the most important and world reknown Opera House, the majestic Duomo gothic cathedral, the wonderful Sforza Castle, the house of the family that ruled Milano in the XV century with a beautiful huge park with lakes and the Arch of Peace, the big arch made of marble with statues on top.
Hop On Hop Off main stops
Piazza dei Mercanti with Justice Palace
here it is all the stops and the landmark:
1 Cavour
2 Montenapoleone
3 Scala
4 Duomo
5 Broletto
6 Castello
7 Cadorna
8 Piazza Virgilio
9 Via Venti Settembre
Get a discount with MilanoCard