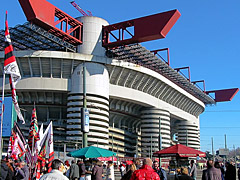 Destination: Milan
Rating: 4.20

Length of time: 2 days - 1 night
Stay: Season Calendar Serie A
Guest min: 1
Guest max: 10
Extras: Extra night
Combination with: Stay in Italy
Description: Ticket for the San Siro Stadium, serie A and Hotel in Milan
The football package contains a ticket in the San Siro stadium (first or second ring) for a match of FC Inter or AC Milan in the Italian premier league serie A and one night (or more on request) in a selected hotel in Milan, overnight and buffet breakfast.
The next matches at the San Siro stadium in Milan
Stadium Giuseppe Meazza, Piazzale Angelo Moratti, Milan, Italy
There are no matches available at the moment. The new football season starts in September.