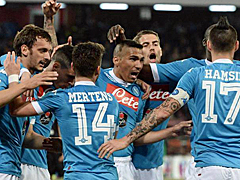 Destination: Naples
Rating: 4.60

Length of time: 3 days - 2 nights
Stay: Season Calendar Serie A
Saeson: Season Calendar Serie A
Guest min: 1
Guest max: 30
Extras: Extra night
Combination with: Stay in Italy
Description: Ticket SSC Napoli in the Stadium San Paolo Naples, serie A SSC Napoli and Hotel in Naples
The football package contains a ticket in the Stadium San Paolo Naples for a match of SSC Napoli in the Italian premier league serie A and two nights (or more on request) in a selected hotel in Naples overnight and buffet breakfast.
Schedule S.S.C.Napoli: Premier League (Series A)
Stadio San Paolo, Piazzale Vincenzo Tecchio, 80125 Napoli, Italy
There are no matches available at the moment. The new football season starts in September.