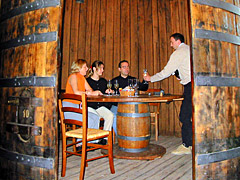 Destination: Milan, Rome, Tuscany, Florence, Lombardy, Piedmont
Rating: 4.30

Length of time: half day
Stay: daily on request
Saeson: all year
Rates : On group size, on request
Guest min: 10
Guest max: 100
Extras: The event is organized exclusively for corporate and incentive groups.
Combination with: Transfer, Dinner
Description: Italy and Wine, this is an indivisible unit. Learn to distinguish the wines and learn which wine fits best to each dish.
Italian wines are referred the best in the world. Each region produces exceptional qualities. The event can take place in a wine cellar in a city, in the countryside or in a medieval village. The wine tasting is combined with regional specialties such as salami, cheese or dinner.
Booking Request for your Incentive Group (Tailor Made Package)
This event can be only booked for enterprises within a complete incentive program with hotel stay and full service.
Please tell us the requested program details and your budget as disposal.
info[AT]milano24ore.it