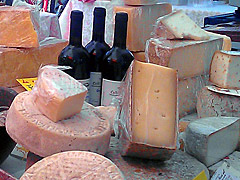 Destination: Tuscany, Volterra, Chianti
Rating: 4.80

Length of time: half day
Saeson: all year
Rates : On group size, on request
Guest min: 10
Guest max: 50
Extras: The event is organized exclusively for corporate and incentive groups.
Combination with: Transfer, Lunch, Dinner
Description: In a Tuscan Fattoria, which is specialized in the production of cheese, you will learn how to mature a pecorino cheese from fresh ricotta.
In the unique Tuscan hillside, on the top of a hill, is the organic farm. The production of cheeses changes so the season. You learn to know differences of production and manufacturing. You also visit the barn where sheep and pigs are kept. So much cheese makes you hungry and enjoy a light lunch in a nice atmosphere and taste the different cheeses together with local ham and various types of salami, along with honey and homemade wine.
Booking Request for your Incentive Group (Tailor Made Package)
This event can be only booked for enterprises within a complete incentive program with hotel stay and full service.
Please tell us the requested program details and your budget as disposal.
info[AT]milano24ore.it