Church San Maurizio Milan
The founding of San Maurizio al Monastero Maggiore Church (at the Great Monastery) in Corso Magenta as earlier nunnery and seat of the Benedictine Order of Milan dates back to the Longobard time. Some of the stones that were used originate from Roman buildings.
The main attraction of the monastery are frescoes, including a beautiful cycle of the 15th Century as well as wall paintings by Bernardino Luini.
The rooms of the monastery are used as an archaeological museum.
Visits Church of San Maurizio Milan
Milan Art Tour: Da Vincis The Last Supper and the Church of San Maurizio al Monastero Maggiore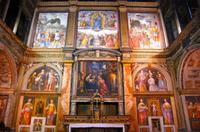 63,00 €
Duration: 2 hours
Discover some of Milan's greatest artistic treasures on this 2-hour walking tour. Enjoy skip-the-line entrance to Leonardo da Vinci's 'The Last Supper,' one of the world's most famous art pieces, and admire the must-see interior of the Church of San Maurizio al Monastero Maggiore. With an expert guide, discover Milan's off-the-beaten-path sights, including Church of Santa Maria presso San Satiro and the controversial 'L.O.V.E' sculpture of a finger while listening to informative commentary. Three start times are available when booking.
San Maurizio al Monastero Maggiore
Corso Magenta, 15, 20123 Milan (View on the map)
open:
daily except Mondays: 9.00 to 12.00 a.m.
2.00 to 5.30 p.m.
Holy Mass:
weekdays 6.00 p.m.
Sundays and holidays 10.00 a.m.